Events Leading to the formation of Earth Glow Masonry, LLC
Fall 2001 - I moved to Ashland, Wisconsin and began attending Northland College to get a bachelor's degree in Environmental studies.
Fall 2002 - I interned at Aprovecho Research Center, Cottage Grove, Oregon, for 10 weeks, I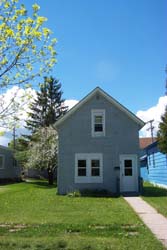 learned about sustainable living practices including green building, gardening, forestry, and appropriate technology. The classes on appropriate technology familiarized me with a lot of the principles of good wood combustion and heat transfer that apply no matter what kind of stove you are burning wood in. I also learned the importance of weatherization for homes through heat-loss calculations. It was during my stay at Aprovecho that I saw my first masonry heater.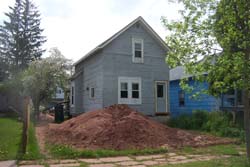 Winter 2003 - I moved into my first home in Ashland, Wisconsin, and began to learn first-hand how important good heating systems are. This 95 year old house brought my carpentry up to snuff and eventually gave me a crash course in masonry when I had to replace its foundation.
Winter 2004 - I started working as a baker at Ashland Baking Company. This work led to three years of professional bread baking experience, and the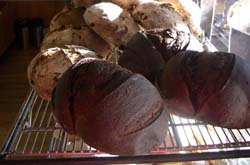 knowledge of what artisan bakers need in an oven regardless of whether they are baking commercially or for themselves.
Winter 2005 - I graduated from Northland College with my environmental studies degree. Towards the end of my degree I did a number of independent studies on energy use in the home, and the most effective ways to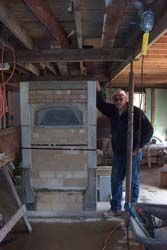 save energy on heating a home.
Winter 2006 - I realized I could combine my previous experience to build masonry heaters if I got some hands-on experience building them. I made friends with Jeff Kuczmarski of Log and Stone, LLC, certified by the Masonry Heater Association of North America. He was willing to teach me everything he could about masonry heaters, and I worked with him on several projects through the years.
Summer 2007 - I worked for some friends plastering,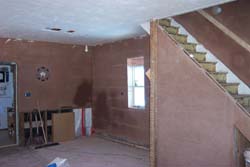 mixing, and applying earthen plaster to their straw bale house near Washburn, Wisconsin. This led me to use the natural plaster instead of drywall when I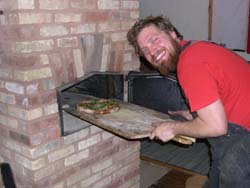 remodeled a large portion of my house. Needless to say, I now have a lot of experience working with plasters and stuccos.
Winter 2009 - I have completed several heaters as an independent contractor and I am enjoying my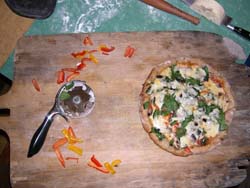 first winter with a masonry heater of my own- discovering the joys of cooking in it's oven and losing myself as I gaze into the flames.
Spring 2011 - At this point I have built 12 heaters independently. Each heater is unique and has its own story. I am also enjoying the time I spend in my garden.