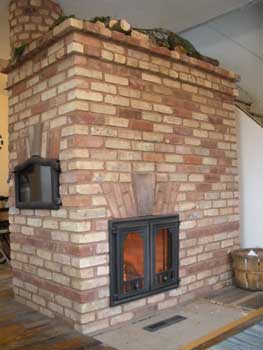 This heater was a labor of love from the beginning. Having spent years restoring my 95-year-old house without losing its charm, I knew I had to build a heater that might have been built here a hundred years ago. One day, I discovered some old bricks that were being thrown in the dumpster at the restoration site for Ashlandís historic train depot. I wasted no time in bringing them home and over time cleaned and stacked them all. I did not think I had enough of these light cream city bricks to build an entire heater, so I reclaimed another 150 bricks from a historic building downtown that was not as lucky as the depot.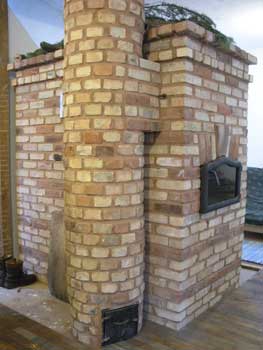 Since I had worked for more than three years at Ashland Baking Company, (Daily Bread), I knew that I wanted a sizable oven to continue my baking adventures. When I was visiting Washburn Iron Works to look into casting my own fire doors locally, they gave me a sample oven door, which became an important part of the heaterís design. I used this door and designed a Russian heater that would have the same width as the oven door. The result is an impressive heater with a 21" by 40" baking surface. On Thanksgiving Day we roasted an 18 pound turkey in it!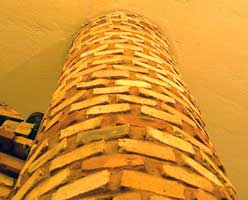 As the heater evolved, I was able to incorporate my own fire doors, a good oven, and a stainless heat exchange loop for domestic hot water. The hot water flows through the heat exchanger behind the throat of the heater, and as hot water is more buoyant than cold, it circulates the hot water into a storage tank in an upstairs closet and the cold water flows down to the heat exchanger to be heated up.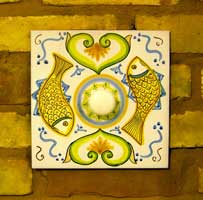 Sometimes the medium shapes the art as much as the artist. With all of these reclaimed bricks, many were broken in half, and I was using round flue liners to save space and because of their superior draft compared to square or rectangular ones. So it clicked that the half bricks could be used to attempt a round chimney and it turned out well. An old brownstone sill that I found under my porch was cut up and used for the keystones above the doors.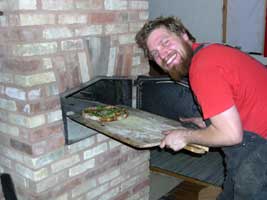 Finally, I used local clay and sand to make a more traditional and natural mortar used long before Portland cement arrived on the scene. The reddish-brown color of the clay mortar with the reclaimed brick and brownstone truly create a heater with a sense of place.