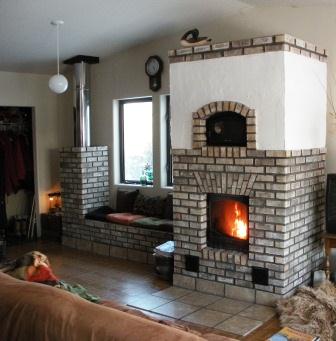 Gayle and George wanted a heater that would fit into their modern home as well as heating it. They were drawn to masonry heaters for the security and environmentally friendly aspects of heating with wood. There was one catch-Gayle is allergic to wood smoke.
To some, it could seem insurmountable to heat with wood and not cause problems for Gayleís allergies, but that is one advantage of a masonry heater. Heating with a masonry heater is most often managed by loading wood into the firebox, starting the fire, and then once the fire is out, you are finished. This means you donít have to open up the door and add more wood while the fire is lit.
Since Gayle wanted to be able to bake and not worry about smoke, I designed this heater to have a white oven, an oven that does not have smoke pass through it to heat it.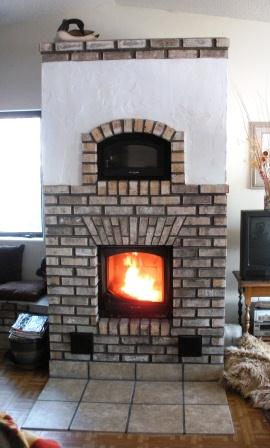 Other features of the heater include a mix of brick and block finished with lime plaster. The lime plaster helps to keep the room light and avoid having too much brick.
To the left of the heater is the heated bench that keeps everyone who sits there cozy.